Welcome to the Center for Molecular Biology (CMB) at Smith College!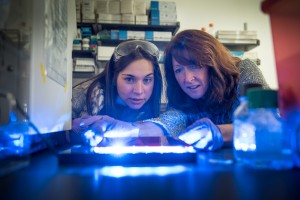 The CMB was established in the fall of 2002 with funding provided by Smith College and the Howard Hughes Medical Institute.  The goals of the CMB are to provide first-class support for molecular biology research, training, and education of all interested faculty, staff, and students at Smith College as well as educational outreach in local schools.
The activities of the CMB are currently focused on the following three target areas:
Facility Services and Consulting
We currently provide DNA Sequencing and Fragment Analysis service.  We also provide equipment and support for Next Generation Sequencing, Bioinformatics, QRT-PCR, Spectrophotometry, Fluorimetry, Microarrays, Gel and Blot Imagery and more. Please refer to our 'Services" and  'Equipment' pages for more information.  In the future, we hope to expand our capabilities by acquiring new instrumentation as it becomes available.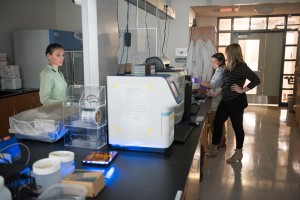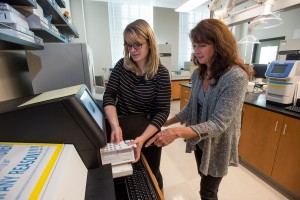 In addition to the facility services, we assist faculty and students in experimental design and troubleshooting.
Training and Education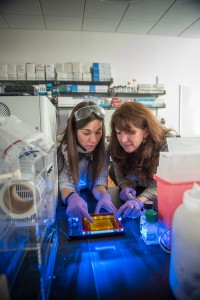 We provide technical support in molecular biology and bioinformatics.  Orientations will be held throughout the year to assist faculty and students in the use and application of the Center and it's instrumentation.  Individualized training is always available upon request.  The information on the orientations will be announced in emails to faculty and staff at the beginning of each semester and SURF.
Collaboration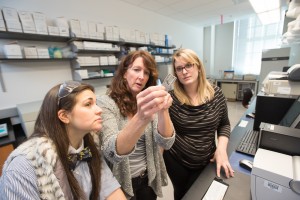 The CMB acts as a center of intellectual exchange for Smith's community of scientists and serves to promote collaboration and multidisciplinary approaches to specific research initiatives. The 'Protocols' page provides a series of protocols regarding molecular biology methods. If you have successfully developed a new protocol that you think would be useful to the community, you can send it to me at lbierwer@smith.edu for posting in this section to share.
We are also happy to collaborate with the educational community outside of Smith College, such as local high schools.  This information is posted in the outreach program section.
This website is intended to inform you and make it easier for you to communicate with us. Visit often to take advantage of our upcoming events. We welcome any suggestions to help us improve the development of the CMB.  Just email me at lbierwer@smith.edu.
Lou Ann (Louie) Bierwert, MS
Technical Director and ITI, CMB