Ionization Sources
A DMDI ion source capable of direct ambient sampling as well as GC, SPME, and breath analysis with additional peripherals
An ion source for use with Newomics' multinozzle M3 emitters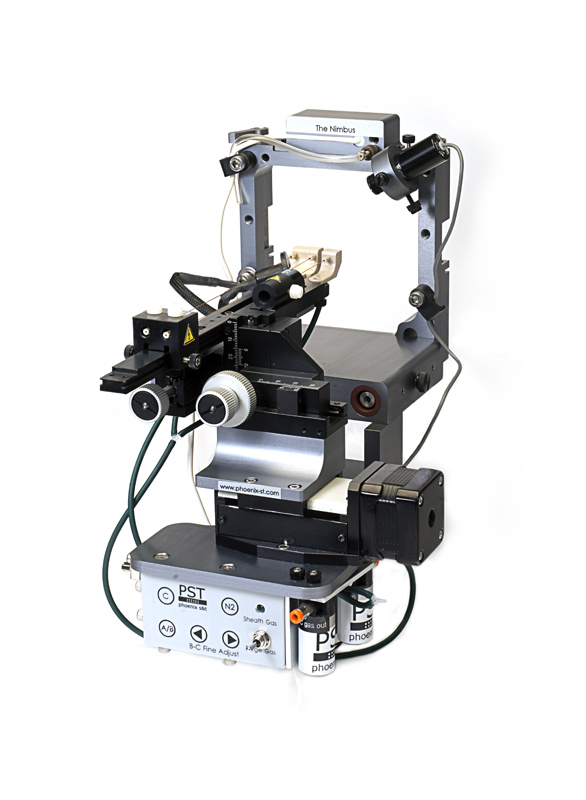 Multicolumn motorized nanoESI source
SESI ionization source for soft ionization analysis of nano-aerosols and volatiles, used for breath analysis real-time headspace analysis.

ASAP probe sampling system for solids and liquids, retrofitted onto Thermo IonMax source equipped with an APCI probe
DART system with additional options for thermal desorption and pulsed gas flow.
Triversa Nanomate – Advion
Sampling robot and ionization source, seemingly discontinued.
Atmospheric pressure MALDI imaging systems
Open LabBot and LTP source – Kuturabi
Open source LTP source and Reprap-based motion system for imaging
DESI systems – Prosolia
Fully automated imaging and manual DESI sources. Discontinued for non-Waters instruments following their acquisition of Prosolia and subsequent redesign of DESI sources.
Flow Probe – Prosolia
Automated liquid microjunction flow probe system, Discontinued after the acquisition of Prosolia