Meet the Team
Rachel Wright
Assistant Professor of Biological Sciences
Rachel attended the University of Texas for her B.S. and Ph.D.
Favorite Holiday: Halloween
Unpopular Opinion: Pineapple on pizza is delicious.
Louis Schlecker
Masters Student Biological Sciences
Rosemont College B.A. in Chemistry
Giovanna Sabini-Leite '21
Honors thesis, McKinley Fellow
Combined nutrient and light stress responses in sea anemones (Exaiptasia pallida):
Understanding how and in which conditions corals survive, die, and adapt enhances our understanding of the biology and the mechanisms driving stress tolerance and adaptation. However, effective restoration is limited by gaps in our understanding of the various ways climate change affects reef-building corals and coral-symbiont associations. I will be using the sea anemone E. pallida as the model organism to explore cnidarian–dinoflagellate symbiosis. This research will investigate combined nutrient and light stress responses in symbiotic anemones and across five different genets, CC7, VWA, VWB, H2, and bulk. I will use total carb, protein, and antioxidant assays, as well as note bleaching or mortality, to measure their combined stress responses. Under multiple stressors, coral fitness traits actually select genes that will positively affect holobiont adaptability, suggesting rapid coral adaptation (Wright et al., 2019). Further, this research indicates that the effects of combined stressors are not necessarily additive but rather, resilience to one stressor confers resilience against the other, simultaneous stressors (Wright et al., 2019). I am hoping to see a difference in the combined responses across the five genets and, hopefully, try to characterize VWA and VWB since they are currently uncharacterized. My research will elucidate nutrient and light thresholds and curves, as well as the combined effects of multiple stressors that corals face.
Quinton Celuzza '21
Honors thesis, McKinley Fellow
Biological Sciences, Chemistry minor
Often found: worrying about vampire property law
qceluzza@smith.edu | @q.celuzza
Shevaughn Holness '23
STRIDE Fellow
Biological Sciences, Statistical and Data Sciences
Unpopular Opinion: Shows need to have more than 150+ episodes
Static Shock is one of the GOATS of cartoons
sholness@smith.edu | @shevaughnt
Natalie Morgan '24
STRIDE Fellow
Major Undecided, interested in ~science~
Favorite Candy: Snickers
Unpopular Opinion: the word "musk" is objectively worse than "moist"
nmorgan@smith.edu
Eyananda Ahmed, '24
AEMES fellow
Biological Sciences
Unpopular Opinion: Brownie corner pieces are better than middle pieces
Favorite Holiday: Ramadan
eahmed@smith.edu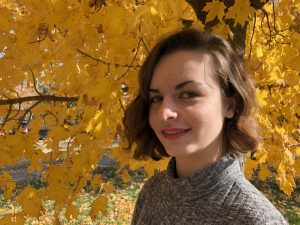 Kadin Kristjansson '24
STRIDE Fellow
Major: Undeclared with an interest in Chemistry
Favorite candy: Wunderbar (weird Canadian candy)
Really, really loves working with spreadsheets!
kkristjansson@smith.edu | @kadinkristjansson
---
Past rWright Lab Members
Emma Kelley '20
Honors thesis project: Disease Resistance Variance in the Great Star Coral