The conflict between Mauna Kea and astronomers wanting to build the Thirty Meter Telescope has been going on since 2009 when the mountain was deemed the best possible location. Mauna Kea is a great place for a large telescope because of its dark skies, high elevation, low humidity, and positioning above some of Earth's lower atmosphere. But one main reason why Mauna Kea is not an ideal place for observation is because it is sacred to the kia'i. Mauna Kea is considered sacred to the kia'i because it is where their origin story is directly tied to the mountain as it is where "the very beginning of Earth from which man descends" (Noe Noe Wong-Wilson a kia'i leader).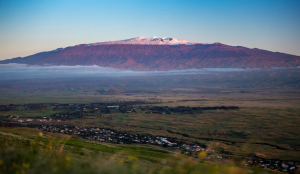 source: https://www.forbes.com/sites/willmcgough/2020/01/14/tourism-to-mauna-keas-summit-resumes–for-now/#55cd39354aa8
Protestors have put on protests and demonstrations ever since 2009. They have blocked the roads, filed court cases against construction permits, and have successfully broadcasted to the US their fight against the TMT. The protests have continued for the past 11 years with support coming in from across the US and it becoming a big topic of debate. Another concern fueling the protests is fear that the construction will contaminate nearby ground aquifers.
One quote that really struck me from this article was from native Hawaiian, Sara Kahanamoku, who said, "Astronomers oftentimes think that an interest in the universe and our origins in the universe is what unites all cultures. But [they] maybe don't realize that some cultures don't necessarily need to explore the universe to know where we come from." Like we have talked about in class to reach your audience you need to connect with them on something they care about. You can't force them to care about something. It seems to me that astronomers have been hammering away at the importance of discovering the universe to the kia'i but it is evident that this is not a point of concern to them.
Resources:
https://www.space.com/thirty-meter-telescope-hawaii-volcano-maunakea-opposition.html