After more than a month of closure, Governor Ige of Hawaii has approved the gradual reopening of observatories on Mauna Kea. KITV Island News reported on the announcement, adding that a small number of essential staff members will be able to perform "nightly scientific operations at the summit." The observatories are considered low-risk because they are remote and uncrowded. In general, the public seems to be in favor of the reopening; in fact, several articles arguing in favor of the The Thirty Meter Telescope International Observatory have published in the last couple of weeks.
The Thirty Meter Telescope will potentially be constructed on Mauna Kea as a neighbor to the preexisting observatories there, but its plans have received widespread backlash. Its giant size sets it apart from the rest. And most importantly, many indigenous Hawaiians think of Mauna Kea as sacred; eight months of protests have brought the controversy to the forefront. This article from the Hawaii Tribune-Herald notes that all protestors were asked to abandon the campsite and obey stay-at-home orders starting in March. However, about a dozen people remain camped at the access road every day. The comments on the report are overwhelming in favor of building the TMT and are aggressive toward the protestors (see images below). A blog post from the Tax Foundation of Hawaii ends with this charged statement: "Enough of this foolishness!  The protesters have concerns about the sanctity of Mauna Kea?  Their argument may have made sense if TMT were the first telescope on the summit, but it's the 14th.  We have a government, we set up a process for approving the construction that included getting input from stakeholders… If they are hell-bent on stopping the telescope and are willing to go to jail for it, let's give them their wish and haul them off."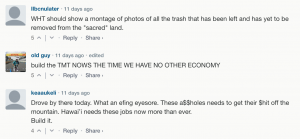 One factor to consider, however, is the reason behind the growing support. Almost all of the recent rallying cries for construction cite the need for economic revival as most important. COVID-19 has decimated the already-fragile economy of Hawaii, according to this op-ed from the Honolulu Civil Beat. The author lays out statistic after statistic about new jobs, gains to the economy, and other benefits of construction. In addition to statistics, I believe the recent quarantine and isolation has also strengthened people's frustration and anger at the lack of progress. There is a widespread feeling of helplessness, but big projects that could revive an economy like the TMT bring hope. It is vital to make sure that the promise of money does not drown out underrepresented voices, however.