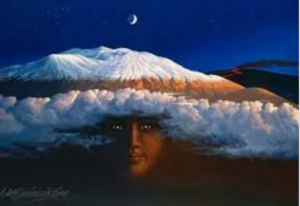 Poli'ahu, the beautiful snow goddess, lives on the summit of Mauna Kea. After a fierce battle with the fire goddess Pele, she managed to outsmart pele and prevent the volcano from erupting. She still coats the mountain top of Mauna Kea to keep Pele at bay.
For the indigenous people, this mythology is a significant part of their heritage as Poli'ahu is one of their most important gods. Frightened that their sacred land will be desecrated, dozens of indigenous Hawaiian people raced to stand their ground at the foot of the mountain by singing, dancing, and chanting.
The indigenous people are willing to stay at Mauna Kea as long as needed to prevent the construction of Mauna Kea. In order to protect their sacred land, Hawaiian researchers are pushing Astro2020, which is 8 white pages which state that federal money cannot be given to projects not approved by the indigenous people.
For the indigenous people, Mauna Kea isn't just some mountain. As kia'i leader Noe Noe Wong-Wilson said "we ask TMT not to build. It's not about the science. It is sacred. It belongs to the god."
This a fight to defend their heritage from a powerful, government-backed figure. The indigenous people refuse to give up any more of their land. Until TMT backs down, Hawaiian protesters will continue to sing, dance, and chant to protect their Mauna Kea
More in-depth look into Mauna Kea mythology: http://www.mauna-a-wakea.info/maunakea/B1_poliahu.html
More on the protests: https://www.sciencemag.org/news/2020/01/new-front-emerges-battle-build-giant-telescope-hawaii#