Outreach Program
Interterm High School Science Teaching Internship
at Northampton High School, Northampton, MA
January 6-13, 2014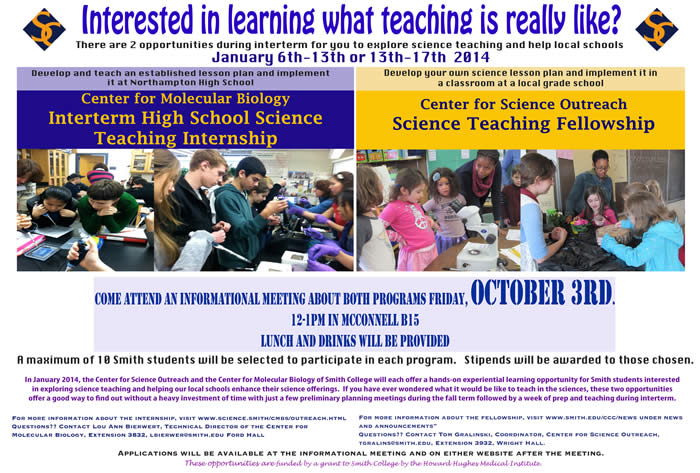 Click here for the application to this year's internship.
Click here to see photos from past year's internships.
Click here to download the meeting schedule handout given out at the above information session.
Here is what one Smith intern had to say about her experience in the program:
As a student coming from a high school where the sciences were not focused upon as heavily as the arts, I was drawn to the opportunity to share the love and knowledge of biology that I had cultivated at Smith with a younger generation. The HHMI J-term Internship gave me the chance to collaborate with some very intelligent, driven Smith students who shared my love for science and spend three days working with a great group of high-school students, some of whom I felt were very inspired by our time there. I truly believe that the best way to learn something is to teach it, and concepts that I had not fully understood in my biology courses I now feel I have a very firm grasp of. The ability to convey complicated concepts in a simplified manner without seeming condescending was a key part of my HHMI experience and a skill I still use every day. I had never done anything like the HHMI Teaching Internship when I signed up, but I am so glad I had the opportunity to have fun and work hard while learning life skills.
Past Interterm teaching programs:
Northampton High School, Northampton, MA
January and April 2012
In 2012, the Center for Molecular Biology completed the fifth Interterm Science Teaching Internship (funded by HHMI) in a partnership with Northampton High School (NHS). This integrative program involved Smith undergraduate students as teaching interns. After learning techniques in the Life Sciences Centers, the HHMI supported interns subsequently taught what they had learned in a three-day molecular biology experience to all of the 9th grade biology classes at Northampton High School, nearly 250 students in all. This offered a mutually beneficial relationship for both sets of students. Our Smith undergraduates were given a significant teaching opportunity, allowing them to explore whether high school teaching might be a possible career path. At the same time, the high school students were given an opportunity to complete a hands-on molecular biology experiment that enriches several components in their current curriculum. The high school students also toured the Life Sciences Centers at Smith College and were extremely positive about doing the hands-on experimentation and visiting Smith College.
Northampton High School, Northampton, MA
January and April 2011
This a very successful fourth round at NHS for teaching the taster lab. This time we had 11 Smith students teaching close to 200 students about how they taste and the molecular biology techniques to find out your genotype for the receptor that can taste PTC. As always, fun was had by all and the high school teachers are very enthusiastic about us returning next year for the final year of the HHMI grant that is funding this program.
Northampton High School, Northampton, MA
January and April 2010
The 2009 outreach program at NHS was so successful that we did it again. Twelve Smith undergraduate students conducted taster PCR classes (lecture and lab) for over 200 ninth-grade biology students at NHS during January and April. Again the experience by both the high school students and the Smith students was fun, rewarding, and eye-opening.
Northampton High School, Northampton, MA
March 30, 31 and April 3 , 2009
This is the second round we went to the NHS for teaching the taster lab. The first one went so well that they wanted us back! This time, we taught 100 ninth-grade biology students.
Northampton High School, Northampton, MA
January 12, 2009 - January 16, 2009
Ten Smith undergraduate students conducted taster PCR classes (lecture and lab) for 150 ninth-grade biology students at NHS. It's been an amazing experience for both Smith and NHS students.
We made "The Gate" of the Smith College website!
We made the Gazette Net news!
Archive of past outreach programs.